Mission Statement
Creative Mullumbimby Inc. will invigorate and reinforce Mullumbimby as a creative place.  It will do this by a place making process that is informed by research and observation of local:
history,
natural environment;
cultural identity; and
aspects of economic and social wellbeing.
This process will encompass the Mullumbimby township and its wider environment and community, including the upper Brunswick River Valley and the hinterland to the South and South-West.
Its purpose is to translate this research and observation into three types of action:
1)    To initiate and manage individual creative projects in particular public and community art and also strategic community buildings and infrastructure;
2)    Develop useful enabling strategic policy and plans through inspiration, community consultation and direct engagement with government agencies; and
3)    To act as a focus and advocate for creative activities within Mullumbimby.
Creative Mullumbimby has grown out of the Placemaking sub-committee of the Mullumbimby Chamber of Commerce with which it continues to be strongly linked.  The activities of Creative Mullumbimby and the Placemaking sub-committee are recorded on The Magic Mullum Storyboard.
P14 is the latest page, (it can be downloaded by pressing the image below)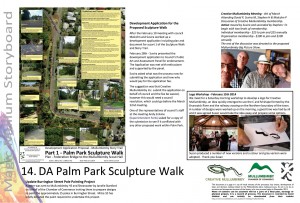 Pages 1-13 are in PDF form and can be downloaded by pressing the following links.
Active Projects
1) Riverside Sculpture Walk
(part of the Mullumbimby Story Trail)
A development application was lodged with Byron Shire Council for Part 1 of Riverside Sculpture Walk – Palm Park on March 26th 2014.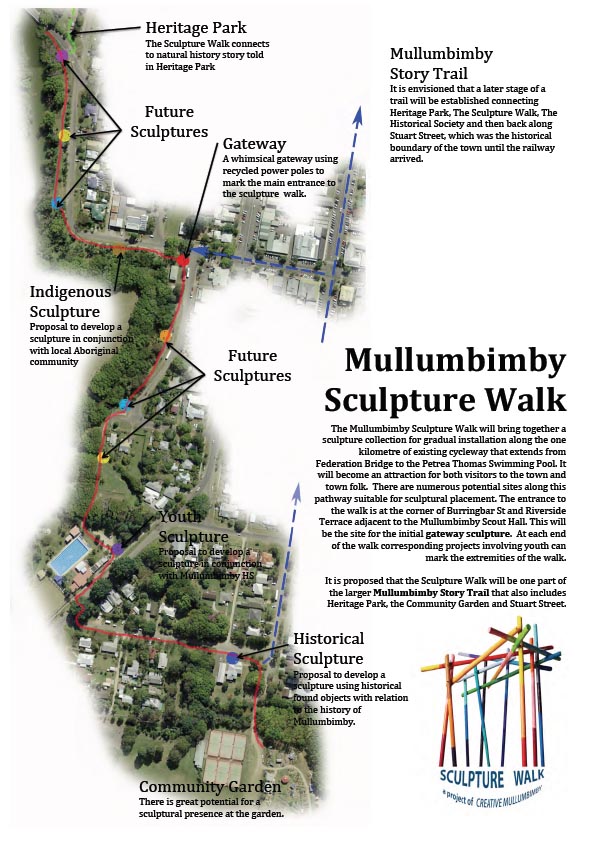 2) Mullumbimby Big Picture Show
A half-day forum devoted to bringing the Mullumbimby community together to talk about what is special about our town and what would we like to see happen here in the next twenty years, it will be held on Saturday May 31st at the Mullumbimby Civic Hall.
3) Mullumbimby Gateway Redevelopment
Proposal for Former Telstra Depot, Station Street Mullumbimby
4) Mullumbimby Master Plan
Creative Mullumbimby wrote a proposal for The Mullumbimby Chamber of Commerce to Byron Shire Council to develop a new master plan for the town.